Committee and Council Meetings
Agendas, minutes and videos on standing committee and council meetings in November and December, as well as agendas and reports for upcoming meetings, are available online.
Improved Storm Resilience for Residential Dwellings and Public Infrastructure
Since August 4th, 2014, when Burlington was subjected to a deluge of 191 millimetres of rain in a single day, the City of Burlington and Halton Region have moved forward on plans to better protect ourselves both as homeowners and managers of the municipal infrastructure.
In previous newsletters, I have reported on measures taken by the City of Burlington and Halton Region to upgrade rainwater drainage and run-off through better maintenance, upgrades and new construction. Meanwhile, we have been engaged in dialogue with the insurance industry and other levels of government on the need for overland flood insurance to protect homeowners against financial losses from such catastrophes.
On November 20 at the Royal Botanical Gardens, I was pleased to convene a multi-stakeholder workshop focused on improved storm resilience for residential dwellings and public infrastructure featuring perspectives from local government and the insurance industry. The workshop included a panel on insurance and overland flooding composed of Rob Wesseling, Co-operators Insurance; Lapo Calamai, Insurance Bureau of Canada and Mazdak Moini, Aviva Canada. They provided insurers' perspectives on how homeowners and cities can best protect themselves against the increasing numbers of severe rainstorms that are occurring.
A second panel consisting of Allan Magi, Executive Director of Capital Works with the City of Burlington with Martin Powell, Commissioner, Transportation & Works Department, City of Mississauga; David Kellershohn, Manager, Water Infrastructure Management, City of Toronto, focused on infrastructure and landscape improvements since severe storm events in each of these three cities.
The audience was comprised of representatives from the insurance industry and municipal governments here in Ontario who shared expertise and knowledge on how to protect homeowners from both the physical and financial hazards of overland flooding.
Principal findings from the meeting include:
Addressing the infrastructure gap that affects communities across Canada in a timely manner is essential however most municipalities do not have the financial resources to do so adequately without the provincial and federal governments as funding partners.
Many residential insurance policy holders believe that they have more coverage from flood hazards than is in fact the case. Insurers are reaching out to policy holders on this matter and to municipal governments on other mitigation measures that can be undertaken.
According to the Insurance Bureau of Canada (IBC), some insurers are now providing residential overland flood coverage in parts of Canada and it is expected to become available through a number of different companies within the next 12-18 months.
The dialogue in this area is ongoing and in my role as Mayor I will continue to work with government partners and the insurance industry on overland flooding.
Burlington's Proposed 2016 Current and Capital Budgets Online
The City of Burlington's proposed 2016 operating and capital budgets are now online and available for review
here
. The budget approval process timeline is:
| | |
| --- | --- |
| Dec. 16, 2015 | Council Approval of the Capital Budget, 6:30 p.m. |
| Jan. 14, 2016 | Public Budget Information Meeting, Tansley Woods Community Centre, 7 p.m. |
| Jan. 19, 2016 | Delegations and review of 2016 Proposed Operating Budget at C&CS Committee, 1 p.m., reconvene at 6:30 p.m. (if required) |
| Jan. 21, 2016 | Operating Budget review and approval at C&CS Budget Committee, 9:30 a.m. |
| Jan. 25, 2016 | Council approval of the 2016 Operating Budget, 6:30 p.m. |
Anyone wishing to directly address City Council about the proposed budgets must register no later than noon on Jan. 18, 2016. To register to present to Council, please call 905-335-7600, ext. 7481 or visit burlington.ca/delegation.
Proposed Capital Budget
The proposed 2016 capital budget and forecast for 2017-2025 forecasts provide a capital budget for the upcoming year and projections of the City's capital needs for the subsequent nine years.
The Long Term Financial Plan lays out a vision for the City of Burlington and priorities for city council to work on through to 2016 and beyond. The proposed 2016 capital budget of $53.2M and forecast focuses on the city's infrastructure renewal needs as a recognized priority for Council and residents.
In 2016, the capital budget provides focus on three areas:
Infrastructure Renewal projects
The 2016 capital budget focuses on infrastructure renewal of the city's assets, a recognized priority for Council and residents.
Over the longer term – 2016-2025 – the capital budget is projected to be $621M allocated into the following eight categories:
Fleet Vehicles & Equipment
Nelson Outdoor Pool
Nelson Outdoor Pool has served as both a neighborhood and a broader community pool for fifty years. The pool has been well used by the community providing a place for residents to participate in recreational swimming, swimming lessons, exercise and competitive swim clubs
In summer 2013, Nelson Pool accommodated 28,802 swimmers, representing 33% of all swimmer attendance across all city pools with average daily attendance of 460 people.
In May 2015, City staff informed Council that Nelson Pool had suffered significant structural damage, which was discovered during an annual inspection. The steel structure of the pool had seen an accelerated rate of deterioration due to winter weather and had corroded beyond repair. A structural engineering report deemed the pool unsafe for public use resulting in the unexpected closure.
Staff made attempts to see if any short term solutions could be found to keep Nelson Pool in service for the 2015 summer season. However, needed repairs would have been too extensive given the age of the pool. As a result, staff advised that it would not open for the 2015 summer season and began to make alternate arrangements for pool users. Council was informed in June that Nelson Pool had reached the end of its service life and must be decommissioned.
City staff then went to work on options to Council concerning the future of Nelson Pool. This included an online survey to provide feedback on how residents use City pools and to address the closure of Nelson Pool. The survey received 1,795 responses.
Options for dealing with the future the Nelson Outdoor Pool included a smaller, 25 metre pool up to permanent closure of the pool with restoration of the site to parkland. Over 90% of respondents indicated that the Nelson Outdoor Pool should be replaced.
City Council recently opted for a rebuild of the Nelson Outdoor Pool at a cost of approximately $5M. The new facility will include an eight lane, 50-metre pool to meet competitive swimming requirements (the previous configuration was seven lanes) with an adjacent zero depth entry leisure pool and water play features. Approximate swimmer capacity would be 550.
The cost of this new facility is not a small amount but when averaged out over the lifespan of the facility of 40-50 years (similar to the original Nelson pool), the very high utilization with its contribution to the physical activity level and health of Burlingtonians, the annual cost of the new facility represents good value for the people of our city.
Burlington's Strategic Plan 2015-2040
After almost a year of collaboration and consultation between City Council and staff with community representatives, the City of Burlington's Strategic Plan is now ready for review.
This strategic plan differs from previous ones in that it looks forward over the next twenty-five years rather than just the four year horizon, which is the norm in many municipalities.
Burlington's Strategic Plan 2015-40 will guide this council and future councils in their decision-making by encouraging common goals and planned investment. This plan is a result of year-long engagement that saw input from residents, businesses, community groups, city staff and members of Burlington City Council.
There are four key strategic directions outlined in the new strategic plan:
A City That Grows– The City of Burlington is a magnet for talent, good jobs and economic opportunity while having achieved intensification and a balanced, targeted population growth for youth, families, newcomers and seniors.
A City That Moves – People and goods move through the city more efficiently and safely. A variety of convenient, affordable and green forms of transportation that align with regional patterns are the norm. Walkability within new/transitioning neighbourhoods and the downtown are a reality.
A Healthy and Greener City – The City of Burlington is a leader in the stewardship of the environment while encouraging healthy lifestyles.
An Engaging City – Community members are engaged, empowered, welcomed and well-served by their city. Culture and community activities thrive, creating a positive sense of place, inclusivity and community.
Short-term implementation plans and medium-term policy documents, like the Transportation Master Plan and Official Plan (5-10 year renewal), will complement the long-term policy of the strategic plan.
We want to know what you think of the city's new strategic plan. Is the draft plan in plain language and easy to understand? Has the plan captured what's most important to you about living in Burlington? Is anything critical that is missing? To view the strategic plan, visit www.burlington.ca/strategicplan or request a copy by contacting strategicplan@burlington.ca or 905-335-7600, ext. 7378.
The city will host open house events on the Strategic Plan in January:
Wednesday, Jan. 6, 2016
Robert Bateman High School
5151 New St.
Cafeteria
7 – 9 p.m.
Tuesday, Jan. 12, 2016
Burlington Public Library – Central Branch
2331 New St.
Centennial Hall
7- 9 p.m.
Wednesday, Jan. 13, 2016
LaSalle Park Pavilion
50 North Shore Blvd. E.
Main Hall (upper level)
7 – 9 p.m.
If you are unable to make the open house events, you can give your feedback online at www.burlington.ca/strategicplan starting January 4th. You are also welcome to email strategicplan@burlington.ca any time with your feedback or questions.
The Strategic Plan will be going to City Council early next year for final approval.
Syria Action Burlington
The City of Burlington hosted a public meeting called Syria Action Burlington on December 1st at the Mainway Recreation Centre.
The outpouring of support materialized into 300 people who attended. The tone of the evening was one of caring and compassion – two of the key qualities for which the people in our community are known.
This event focused on finding ways to connect the many faith groups, school groups and others working to bring Syrian refugees to Canada and successfully integrate them into our community. The City of Burlington anticipates a minimum of 14 families and as many as 30 will settle in our community.
City staff members have created a website https://burlingtonactionsyria.recovers.org/ to allow groups seeking donations, services, volunteers to connect with people who have services and goods to offer. I encourage all interested residents and groups – including those who have already submitted written forms – to visit this page and enter your information, creating an online database.
The link to this site, as well as other updates, is available on the City webpage: www.burlington.ca/welcomesyria and will be updated regularly.
Alexandra Kotyk of Lifeline Syria set the scene for the audience, describing the refugee crisis of millions of Syrians who have fled their homes to escape the horrors of ISIS and civil strife in that country. Gillian Kearns of Wesley Urban Ministries which plays a leadership role as intermediary with the federal government and local groups committed to refugees settlement, spoke about the practical needs of new refugees in our area.
Burlington federal MP Karina Gould spoke about federal government policies for the settlement of Syrian refugees across Canada  such issues as refugee selection, security screening. Burlington MPP Eleanor McMahon spoke about Ontario government support for the initiative. The second half of the meeting was facilitated by Steve Howse and featured comments and offers of help from members of the audience.
Here are some of the many comments shared around support and opportunities:
Luke's Anglican Church is starting the process to sponsor a family. They are located in downtown Burlington and are looking for people to partner with them. StLukesBurlington.ca.
Halton Multicultural Council reminds us it takes a community to raise a family. They are a community-based settlement agency that provides a variety of programs and services to immigrant and refugee communities at locations across Halton. http://hmcconnections.com/
Halton Mosque is looking for partners to sponsor a family. They are also able to help with translation services and in many other ways. Visit haltonmosque.ca or email info@haltonmosque.ca.
North Burlington Baptist Church sponsored an Iraqi family that arrived in October. They recommended the website rstp.ca, noting a link on main page to prepare for a family and what to expect. http://www.nbbc.ca/
YMCA Hamilton/Burlington/Brantford spoke about their employment programs that help people find jobs. They also work with a lot of youth and have a youth centre. http://ymcahbb.ca/
Burlington Public Library and its partners has a lot to offer newcomers, such as books and DVDs in other languages, ESL books and CDs, ESL conversation circles, as well as settlement workers available every other Wednesday at the Alton branch and every Friday at the Central branch. bpl.on.ca
St. Christopher's Anglican Church is seeking monetary help as they would like to sponsor a family. They also offer community meals, food bank and youth programs. http://www.stchristophersburlington.com/
Centre for Skills Development and Training spoke about settlement work within Burlington and Oakville and Milton. They said they would be happy to provide assistance. http://thecentre.on.ca/
Port Nelson United Church is sponsoring a family that is expected to arrive in the coming weeks. They have collected household items and may have more than they need. They will likely need volunteers in the coming weeks. http://portnelsonunitedchurch.com/
The evening also featured many offers of help from individuals. Jacquie said she had a room in her condo and would be happy to share her home. She explained it would be as good for her as for the family or individual she was assisting.
Retired teacher Brenda said she would be happy to help teach English.
And in another heartwarming moment of the evening, a young girl named Eleeza said she was raising money to provide Beanie Boos to children of refugee families. By the end of the evening, people opened their hearts and provided several hundred dollars to her cause.
It is heartening to see the positive community response to welcoming Syrian refugees. Canada has a long history of welcoming refugees and we are proud to continue this tradition. Our diversity is an asset and what makes Canada special. Burlington is proud to welcome Syrian refugees into our community.
Governor General David Johnston recently said of this Canadian initiative: "Let's live up to who we are as Canadians by tackling this challenge, seizing this opportunity. Let's work together and meet this defining moment for our country head-on."
Please visit www.burlington.ca/welcomesyria and find out more, including visiting https://burlingtonactionsyria.recovers.org to provide your information.
Ontario and Quebec Municipalities Ready to Take On Climate Change 
As Chair of the Climate Change Task Force of the Association of Municipalities of Ontario, it was an honour and privilege to be in Ottawa recently for the historic signing of the Climate Change Action Covenant between the Association of Municipalities of Ontario and the Union of Municipalities of Quebec.
Climate change is a global problem that needs solutions at the local level. As we look for leaders in the charge towards environmental sustainability, I believe this leadership lies in the municipalities of Ontario and Quebec.
Municipalities have long been climate change champions. We support public transit, waste diversion, efficient municipal buildings and renewable energy measures, among other green infrastructure.
The City of Burlington is committed to the environment through initiatives like our Community Energy Plan, sustainable development, and support of responsible intensification to foster walkable, transit-friendly neighbourhoods.
Staying in Touch – Monthly Radio Spot on CHML
Many readers will be aware that I am a regular guest on the Bill Kelly Show on 900 CHML for The Mayor's Town Hall once a month from 10-11 a.m. We discuss a wide range of issues affecting Burlington after which I respond to phone calls from the listeners. Previous programs are available in podcast on the CHML website at http://www.900chml.com/. I encourage you to tune in and to call with your questions and comments at the next Mayor's Town Hall on January 22 between 10-11 a.m.
Burlington Matters with Mayor Rick Goldring
Please tune in as I lead a discussion with a panel of community leaders about current news and events in the city of Burlington on my community television program, Burlington Matters with Mayor Rick Goldring. The show airs Tuesdays at 9:30 p.m. and Sundays at 11:30 a.m. on TVCogeco Cable 23/HD Cable 700. For more information or to suggest an episode topic, please email mayor@burlington.ca or call 905-335-7607.
City of Burlington Crews Ready for Winter  
While the official start of winter does not arrive until later this month, the City of Burlington's snow clearing crews are ready for the snow and cold.The city's snow removal crews are ready for whatever winter brings us. The City has added new snow clearing services this year, including an additional road plow and another unit for sidewalk plowing which will help the city meet our levels of service during the winter months.
New for this winter, residents can use the 'What's been plowed?' online app to see which streets have been plowed during snow events. The city has also launched a video to inform residents about the snow clearing services they can expect during wintery weather conditions. 'What's Been Plowed' and the video are available at www.burlington.ca/snow. The video does a great job of explaining the city's levels of services and also gives tips about how residents can help the city during winter operations.
Each winter season, the City of Burlington maintains 1,900 lane kilometres of roads and 850 kilometres of sidewalks.
Residents can help with the removal of snow from streets and sidewalks by following road safety and parking rules:
Remove cars parked on the street during or after a snowfall.

Take it slow when driving in winter conditions. Give snow plows room to clear the ice and snow and avoid tailgating or passing.

Do not shovel, plow or blow snow from residential or commercial properties onto the road. This poses a hazard to motorists and is prohibited by the Ontario Highway Traffic Act and city bylaw.
Neighbourhood Rink Program
 Sixteen parks will feature at least one neighbourhood rink for the 2015 -16 winter season thanks to neighbourhood groups who came together and submitted successful applications to look after a rink in a local park.
We were extremely pleased with the response we received from neighbourhood groups. These rinks will offer neighbours an opportunity to connect, be active outdoors, play together and enjoy the winter season.
City roads and parks maintenance staff will work to install the rink boards in each park throughout December. All boards should be up by the end of the month. Neighbourhood groups will then flood and maintain the rinks, weather permitting.
The City of Burlington offered 12 parks across Burlington for neighbourhood rinks. The seven successful locations are:
Brant Hills Park (two rinks)

Central Park

Ireland Park 

LaSalle Park

Nelson Park

Orchard Park (two rinks)

Tansley Woods Park
Resident groups also came forward to manage rinks in these nine Neighbourhood rink locations:
Champlain Park
Emerson Park
Fairchild Park
Glen Afton Park
Optimist Park
Palladium Park
Sinclair Park
Skyway Park
Sheraton Park
Rinks are free to skate on for all. Skaters are asked to keep some rink rules in mind:
Rinks are unsupervised.
Helmets are recommended.
Rinks are natural and therefore can be uneven compared to indoor artificial ice surfaces.
All neighbourhood rinks are open to all members of the community at no charge.
Neighbourhood rinks are used at your own risk.
Vehicle lights, generators and driving in the park are prohibited.
Rink use and concerns are managed within city bylaw guidelines.For more information, visit www.burlington.ca/neighbourhoodrink , email skating@burlington.ca or call 905-335-7600, ext. 6454.
Free Parking in Downtown Burlington in December Returns
The City of Burlington is offering free parking in downtown Burlington throughout the month of December in city lots and at parking meters.
Now in its third year, Free P in December is one of the city's most well-received programs. During the busy holiday season, we hope the promotion will encourage residents and visitors to come downtown and explore, shop and celebrate the holiday season with family and friends.
During Free P in December, vehicles parked at on-street meters can park free for up to three hours. For vehicles parked at municipal parking lots or at the parking garage at 414 Locust St., there is no maximum time limit. Overnight parking in municipal lots is also allowed.
The City of Burlington provides more than 1,400 municipal public parking spaces in downtown Burlington and offers free parking year-round in downtown Burlington Monday to Friday after 6 p.m. and all day Saturday, Sunday, and holidays.
City of Burlington Unveils Six Local Artists' Murals 
The City of Burlington unveiled six local artists' murals at Freeman Station recently as part of its public art program.
The city's public art collection is growing, thanks to engaged residents who shared ideas for mural locations and themes earlier this year. The city is grateful to the dedicated, local artists who brought these ideas to life around our city. We are pleased to be able to have these murals as part of the Burlington Public Art collection.
The local artist mural initiative is a new public art program designed to tell local stories using local artists. This year's program commissioned six small to medium-scale murals throughout the city.
These commissions were open exclusively to Burlington, Ont., artists. Free professional development opportunities were offered to assist artists with the application process and project development.
A community jury of residents and artists representing each ward reviewed the proposals and selected the following artists:
Judy Mayer-Grieve: King Road Underpass, Ward 1
Claire Hall: Freeman Station, Ward 2
Teresa Seaton: Amherst Park, Ward 3
Hannah Sell and Liam Racine: Port Nelson Park, Ward 4
Tamara Kwapich: Orchard Community Park, Ward 5
Donna Grandin: Ireland Park, Ward 6
The mission of the City's public art program is to enhance the quality of life in Burlington through the rich context of the arts. The program strives to bring artwork by both established and emerging artists to the city centre and the neighbourhoods throughout Burlington, Ont. The program provides cultural opportunity, guides the evolution of a vibrant artistic character for the city's emerging public places and ensures a visual legacy for all to enjoy.
Give the Gift of Life – Donate Blood
This December, I am challenging Burlington to give the gift of life and donate blood. With 800 appointments that need filled at the Canadian Blood Services blood donor clinic in Burlington this month, I encourage you to book your appointment today at http://www.blood.ca./ It's a busy time of year, but I ask you to make time to donate blood. To our local hospital patients and their families, there is no better gift.
Best Nominations Open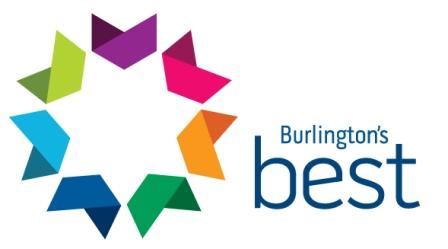 Burlington is filled with many great individuals, families, groups and organizations. Now is the time to recognize their hard work and community involvement by nominating a person or group for a Burlington's Best Award.
We need to recognize and celebrate our residents and groups who go above and beyond for their community or cause. These are the people who are working to be the change they want to see.
They are working towards a better Burlington and doing it on their own free time.
There are seven award categories of Burlington's Best:
Citizen of the year – A person whose volunteer activity has made a significant and sustained contribution to the vibrancy and wellbeing of the Burlington community
Junior Citizen of the year – A high school student, 18 years or younger who has made a significant contribution to the Burlington community
Senior Person of the year – A person, 55 years or older who has advocated on behalf of seniors and/or made a significant contribution to the Burlington community
Environmental Award – An individual or group that improved and/or protects Burlington's environment
Arts Person of the Year – An individual who has contributed to the arts in Burlington as an artist, patron or advocate including but not limited to, visual arts, media arts, musical arts, performing arts and literary arts
Community Service Award – An individual or group whose volunteer activity has contributed to the betterment of the Burlington community
Heritage Award – An individual who has demonstrated a commitment to the preservation of Burlington's heritage, and has volunteered their time in an effort to support the preservation of Burlington's heritage
Visit www.burlington.ca/best to nominate someone deserving of civic recognition for their hard work, compassion and dedication. Nomination forms can be completed online at or by picking up a nomination form at the Clerk's department at City Hall, 426 Brant Street. Nominations will be accepted until Feb. 19, 2016.
Upcoming Events: New Year's Day Celebration
Please join us for the City of Burlington's New Year's Day celebration on Friday, January 1, from 11 a.m. to 4 p.m. at Tansley Woods Community Centre, 1996 Itabashi Way. This free family event will feature a Frozen theme with entertainment, gym activities, crafts, a free swim and more. Visit www.burlington.ca/newyearsday for a schedule and additional information. Thank you to our sponsors, volunteers and staff for helping make this annual community event a reality.